Upcoming
---
Previous events
2023
2022
2021
Forskningsbibliotekens pedagogiska roll: Nätverksträff 25-26 November 2021, online on 25 November 2021. Presenter (with Malin Barkelind): Generalist eller specialist? Hållbar kompetensutveckling inom digitala metoder och verktyg
Biblioteken och Agenda 2030, online on 22 November 2021. Arranged by Svensk biblioteksförening Regionförening Skåne and SFIS Syd. Presenter: Biblioteken och hållbarheten: Agenda 2030:s genomslag globalt och lokalt
Teknikdagen 2021 SFIS Mellansverige, online on 13 October 2021. Presenter: AI är här! Vad händer i samhället och i biblioteken?
Café Corona om biblioteken och Agenda 2030, online on 13 September 2021. Arranged by Region Örebro län. Presenter.
Wikipedia:Skrivstuga/Ulleråker, online on 8 September 2021. Joint organiser with Cecilia Rodéhn.
IFLA World Library and Information Congress 2021, online 17-19 August 2021. Speaker: Emerging Leaders Europe-Africa: Shaping the Future Governance of Our Networked Societies. Video presentation.
The Astrid Lindgren Code: deciphering the author's secret language through mixed methods, online, arranged by Uppsala University Library on 2 June 2021. Joint presentation with Malin Nauwerck.
Branschdagarna 2021, online, arranged by Svensk biblioteksförening, 17-19 May 2021. Attending.
Harry Potter in 7 Languages: A lingustic odyssey through known and unknown languages (Harry Potter Book Night), online, arranged by English Bookshop, 4 February 2021. Presenter. The talk on Youtube.
2020
2019
2018
2017
2016
2015
Expertnätverksträff för bibliotek och upphovsrätt. Arr: Svensk biblioteksförening. Göteborg. 24-25 november 2015.
Föredrag på 4th International CopyCamp Conference i Warszawa, Polen. 4 november 2015. Presenter. Tack till Svensk biblioteksförening för resestipendium! Här är en reserapport.

NetworkED seminar – Maggie Philbin: Tea,Tech and Teens. Arr: LTI @ LSE. London. 12 november 2015. Copyright in a Changing World: A talk by Prof. Charles Oppenheim. Arr: The British Computer Society och CILIP London Member Network. London. 29 oktober 2015. Attending.
Biblioteksdagarna i Lund. 5-7 maj 2015. Attending.
Copyright's Impact on Libraries Today and Tomorrow. Pecha kucha-presentation på
BOBCATSSS 2015 i Brno, Tjeckien. 28-30 januari 2015. Presenter.
Nätbaserad undervisning är nutid inte framtid. Paneldeltagare på
TCO:s konferens om högre utbildning i Stockholm. 22 januari 2015. Panelist.
2014
2013
---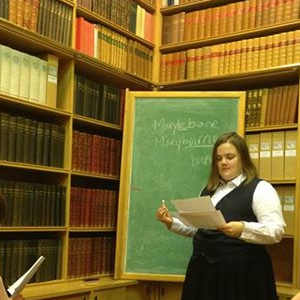 ---